Title 6 (also known as Title XI)
Title 6 is a United States law that prohibits exclusion from participation in, denial of benefits of, and discrimination under federally assisted programs on ground of race, color or national origin, which includes public schools. You can learn more about specific clauses and other information at the official web page here.
http://saveyourvi.org is a resource for students who have experienced these forms of discrimination. The resource below shares the steps for reporting violations of Title 6 as a student and parent. The website also includes a toolkit for teachers and a longer document for parents.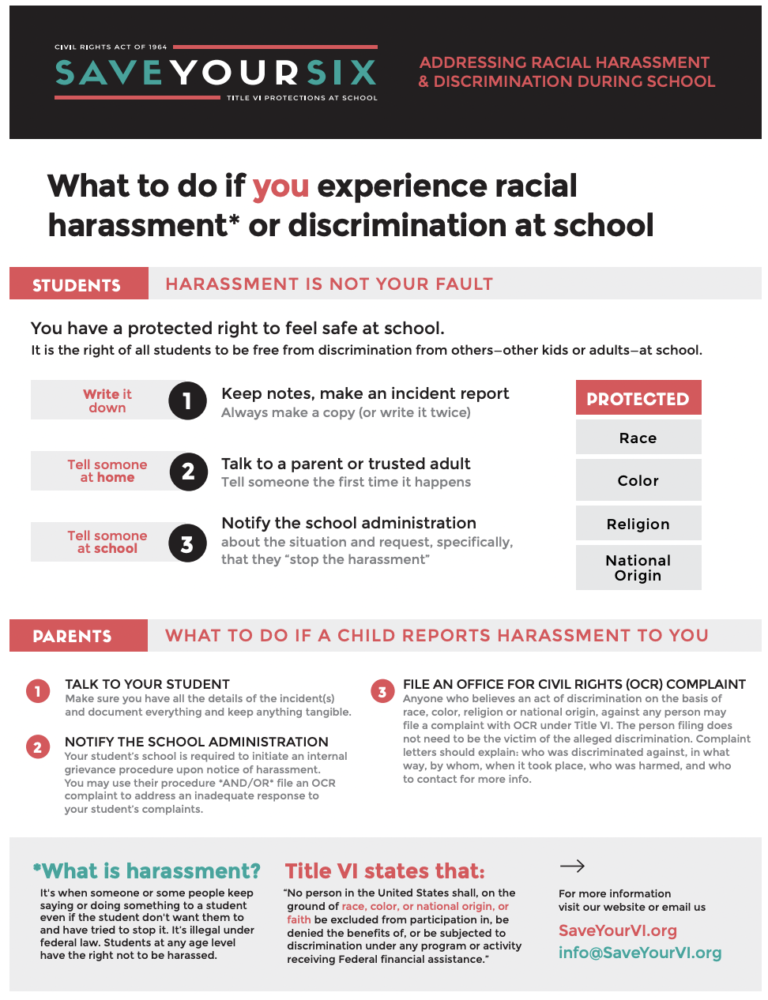 Title 9 (also known as Title IX)
Title 9 is a United States law that prohibits sex-based discrimination in schools and other contexts. It applies in cases of sexual assault, sexual violence, sexual coercion, rape as well as in cases of sexual harassment. Although Title 9 focuses specifically on sex-based discrimination, racist violence and sexual violence and harassment often go hand-in-hand. You can find more information at the official web page here. Members of the Arlington Community should know their rights under Title 9 and how to file a complaint under this statue.
Paul Finch is the Title 9 officer for the Arlington Central School District and can be contacted at pfinch@acsdny.org.
KnowYourIX.org is a resource for students who have experienced sexual violence and those who want to support them. The graphic below summarizes what you should know about Title 9.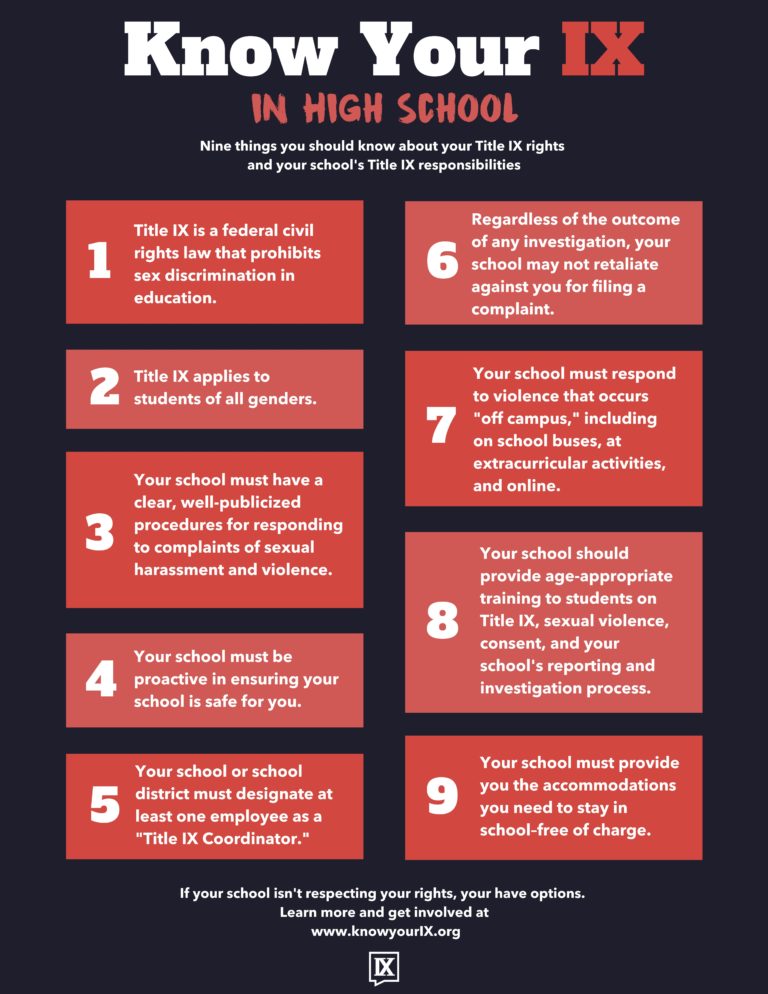 Dignity for All Students Act (DASA)
Important Links:
Steps:

1. Fill out form

a. When you go to the website (you can save it as a PDF file, so that you always have your own copy). You fill out the form, it has check boxes, you can
check other, once it's filled it out, save it as your own PDF file
b. Don't wait, as soon as something happens to bullying, race, sexuality, anything that is targeted specifically, file the report
c. Parent should fill it out from their perspective based on what child is saying
d. Use buzzwords to help the process move faster:
–Child does not feel safe
–My child feels threatened
2. Send an email with principal (see below for building coordinators across ACSD) and superintendent (Dr. Dave Moyer, dmoyer@acsdny.org)
a. Attach the actual report to principal and superintendent
–Instructions will only say principal, but include superintendent as well
b. And within the body of the email say how disappointed you are (safety, threatened), write at least 2-3 sentences
c. And say something like "I expect to hear a thorough investigation being completed within 24-48 hours"
3. Other tips:
a. One parent recommended going in person after submitting the form. She said that they count on parents not being available or supporting their
children, you have to put pressure on them.
–Show up in person the next day after filing
b. Expect the runaround, but say that this is a serious situation and you will not leave until you speak to someone
–By law DASA reports must be filed, and there is public information about how many DASA resorts are filed
–After 2-3 weeks, you can check and call the Board of Regents and send it to them if they don't know about it
ACSD DASA Building Coordinators: